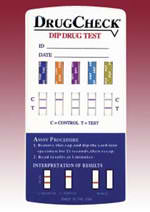 The DrugCheck Dip Drug Test is a rapid, qualitative immunoassay for the detection of up to 10 drugs in a convenient, one-step test. Simply insert the test strips in the collected urine sample for 10-15 seconds and read the test results at 5 minutes.
Accurate results in 5 minutes
Easy to read
Simple procedure
18-month shelf life
Available in single- and multiple-test panels
No urine to pipette
No instrumentation
Made in U.S.A.
Accurate results in 5 minutes
---
     Drugs Tested: AMP – BAR – BZO – COC – MET – MTD – OPI 300 – PCP – TCA – THC, AMP – BAR – BZO – COC – MDMA – MET – MTD – OPI – PCP – THC, AMP – BAR – BZO – COC – MDMA – MET – MTD – OPI 300 – OXY – THC, AMP – BAR – BZO – COC – MDMA – MET – MTD – OPI 300 – PCP – THC, AMP – BAR – BZO – COC – MET – MTD – OPI 300 – OXY – PCP – THC
SKU: 31000