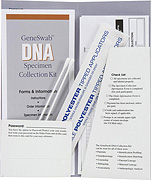 At-Home DNA Paternity Test Results in 7 Business Days. Includes alleged father and child, mother is optional. Putting your mind at ease, or making sure that a potential parent acts responsibly has never been more convenient, confidential, affordable or accurate. With the GeneSwab Home DNA Testing Kit you'll collect DNA specimens from the privacy of your home. You'll send the DNA collection kit back to our DNA testing laboratory, and in a matter of days, receive the DNA test results. Results that are 100% accurate for a negative DNA tests, and greater than 99% accurate for a positive one. The most accurate DNA test results available today. If you need to test additional alleged fathers, see our Paternity Test w/Additional Participant. Additional alleged fathers are only $125.00 each! Service Benefits:
Our DNA tests achieve results reaching greater than 99.9% accuracy when determining the paternity of a child.
All DNA test cases are tested twice (2x), in parallel.
Specimen collection is done, privately, in your own home. All results are maintained with strict confidentiality.
Our easy-to-use DNA collection kit allows you to simply swab the inside of the mouth of the child and the alleged father. Mother's participation is optional, but strongly suggested.
DNA can also be extracted from items such as hair roots, toothbrushes, disposable razors, or dried biological fluids, such as blood or saliva.
We strive to offer extremely low DNA testing prices.
Priority Service Results are available within 5 business days (Standard Service Results are available in 7 business days).
Steps To Determine Paternity for Personal Purposes
Purchase our kit for DNA Paternity Testing.
Follow the easy instructions to swab cheek cell specimens from the alleged father, child and mother (mother's specimens are optional). Results obtained from specimens collected at home are not strongly supported in a court of law. For Legal DNA Testing Services see our Legal DNA Paternity Test.
Send the DNA specimens to be analyzed to our DNA Testing Center. Standard service results are usually available within 7 business days, and will be provided by email, telephone, mail and/or fax.
For Prenatal DNA Paternity Testing (before the child is born) see our Prenatal Paternity Test.
Brand: GeneSwab
---
SKU: DNAP